Meet Our Playground Staff
Love My Doggy Day Care and its management team earned a certification from the Outstanding Pet Care University (formerly the American Boarding Kennel Association).
The certification program is a 60-day, 11-course program that covers areas such as pet behavior and handling, facility sanitation and disease prevention, maintaining pet safety in our facility, pet nutrition and more.
Additionally, each management team member participated in a 5-day facilities and operations course that teaches about the logistics, process flow, and day-to-day management of a smooth-running pet facility that offers multiple services from grooming to boarding to training. This training is provided by Richard Witherill, a recognized industry expert and published author and reviewer of numerous publications related to the pet care industry.
And of course, each of our specialists – our groomers, trainers, and veterinarian – hold professional credentials relevant to their specific area of expertise. Find out more about our individual team member's qualifications below!
Lisa Flaiz, Owner
Lisa Flaiz, a pet owner her whole life, is starting Love My Doggy Day Care with a love of animals at the core of her purpose. She believes that every dog deserves a chance to reach its full potential as a healthy, confident, socialized, and well-balanced member of the family. She believes that responsible and loving pet owners need a state-of-the-art dog day care with 24-hour supervision so that pets can be safe, secure, healthy and happy–and that this helps ensure a happy home and peace of mind for the whole family–people and dogs alike.
When it comes to Lisa's business philosophy, she adheres to a customer-centric belief and value system that allows her to make authentic connections and create long-term relationships with her customers. With a twenty-year history in the healthcare industry, and a passion for the welfare of animals, Lisa embarked on over two years of research, consulting, and training in the pet-care industry. With her deep experience as a leader and manager, Lisa will ensure that Love My Doggy Day Care will be managed and staffed with trained dog lovers you can trust to love your best friend as they love their own, and to treat you with respect, courtesy, and personal attention. Additionally, Lisa is a Certified Professional Animal Care Operator (CPACO), an accreditation earned from the Professional Animal Care Certification Council.
Lisa invites you to reach out to her at any time! She can be reached through the contact info, and will answer you personally. It is her goal to be accessible and get to know all of the dogs and their parents that come to play! Lisa's pet family members include Zachary, a black lab-pit mix, Sabrina, a boxer-lab mix, pictured above, and her two cats, Damien and Gable.
Bryl Villanueva, General Manager and Facilities Director
Bryl Villanueva is an entrepreneur in heart and spirit – not to mention a talented jack of all trades. So he's the perfect team member for getting us started on the right foot!
Having had his hands in a variety of small businesses over the years, he has a proven ability to wear any hat necessary to tackle a task, and he has mastered the art of contractor and vendor management. As a team leader at Petplan Pet Insurance, Bryl was the lead contact for clients, vendors and strategic partners, and was responsible for the hiring and training of both the sales representatives and the customer service team, as well as for directing and managing internal sales representative and 20 outside sales representatives. Bryl also developed the Petplan.com doctrine for providing customer service. As an experienced manager adept at coordinating efforts across a multi-disciplinary and remote team, a client service professional, a person with a passion for start-ups and animals, Bryl is the ideal management team member for leading and directing our day-to-day facilities' needs. And, as a key member of the management team, Bryl has participated in the same level of dog/pack-related and operations-related training as the rest of the management team, so you can expect to see him pitching in all over the business!
Bryl is pictured here with Buckaroo, his pit bull rescue, who was found as a stray on the street in the Kensington area of Philadelphia.
Jennifer M. Jones, VMD Love My Doggy Day Care Veterinarian Services, Sole Proprietor, The Animedic Veterinary Services
Dr. Jennifer Jones is originally from a small town in central Pennsylvania. In 1994, her passion for Veterinary Medicine took her to Philadelphia, and to the University of Pennsylvania, where she graduated with a B.A. in Biology, and minors in Chemistry and Psychology. She loved the University of Pennsylvania so much she stayed another 4 years, and graduated with her V.M.D. in 2003. She practiced in both the Mt. Airy and Andorra neighborhoods for 9 years before pursuing her life-long dream to open her own Veterinary clinic, with emphasis on compassionate, courteous, and high quality medical care to pets and the people who love them. She is now the sole proprietor of The Animedic Veterinary Services, and she operates a satellite location out of the Love My Doggy Day Care facility two mornings a week, and by appointment. She is a member of the AVMA, PVMA, and licensed in both Pennsylvania and New Jersey to practice Veterinary Medicine. She has performed volunteer veterinary services with the Humane society on Native American reservations, and in remote parts of the Peten region of Guatemala.
Dr. Jones is proud to call Philadelphia her hometown, and lives in the Roxborough neighborhood. She shares an 1850's farm home with her 4 aristocratic cats, awesome rescued pit-bull Daphne, Yorkshire terrier guard dog Chewbacca, several pet chickens, and a turtle. She is mom to four adorable aspiring veterinarians, and has one very patient, loving husband.
Gayle Kurtzer, Promotions Director
Gayle Kurtzer, RN, CCRC, having supervised Emergency Departments and Intensive Critical Care Units for 300-bed hospitals, is ready for anything! She also spent more than twenty years in customer service for a major pharmaceutical company, where her focus was creating great customer experiences for patients and caregivers alike. And can she multi-task! This is a good thing, because Gayle is going to be busy as the Love My Doggy Day Care Promotions Director! She will be responsible for managing all of our promotions, contests, giveaways, special events, affiliate partnerships, adoption programs, community relations, and charity functions. If you have an idea for a great event you'd like to see us host, let Gayle know! Gayle's first order of business was planning our Grand Opening Event. Please let us know your feedback if you attended! An animal-lover and pet-owner her whole life, including her dog, Lucy, pictured above, Gayle has spent the last six months training, volunteering at shelters, and educating herself, alongside the rest of the management team, on the various aspects of dog day care, as she prepared for her transition from human healthcare to animal care.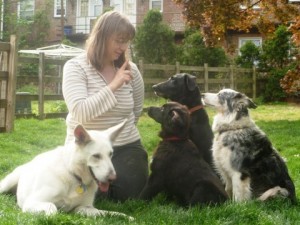 CJ Hazell, Dog Trainer
CJ started training professionally in 2010. Her study of dog training methods led to her using positive-reinforcement based training techniques and in 2013 she became a Karen Pryor Academy Certified Training Partner.
CJ had decided to follow her heart and went back to school to study wildlife conservation. She was accepted into a graduate program at SUNY College of Environmental Science and Forestry in Syracuse, NY and then had to come up with a research project. Her husband was awarded a Fulbright to teach in Kyrgyzstan, a former Soviet Republic in Central Asia. She decided to take a break from school to go with him, just for the sheer adventure of it. Once over there she discovered that they have lots of wolves, and jackals, and no one was doing any kind of wildlife research due to lack of funds and research infrastructure since the collapse of the Soviet Union. An idea was born… She would do research on wolves and golden jackals in Kyrgyzstan! There was one slight catch… She didn't have a large grant that would pay for trapping and radio collaring animals so she had to find a MUCH cheaper way to do it. She had read a few articles about using dogs in wildlife research, a new technique that was just getting started at that time. This was her AHA! moment. She would get a dog and train it to find jackal and wolf scat (poop for the non-wildlife people out there) so she could map their trails and study their diets… and that is how it all began!
CJ loves teaching all dogs, especially helping rescue dogs and their new owners develop strong bonds, and getting puppies off to a healthy, happy start in their new lives. She has found helping dogs overcome serious emotional and behavioral problems to be particularly rewarding. CJ feels like it was a long journey finding the perfect thing to do with her life and couldn't be happier! She currently has 2 dogs of her own: Jillaroo, an Australian Kelpie/Aussie mix, and Tirrike, an Australian cattle dog.